Sinigang na Hito sa Miso is a delicious soup you'll love year-round. With the moist catfish, tender-crisp veggies, and tamarind-miso flavored broth, it's tasty, filling, and great with steamed rice.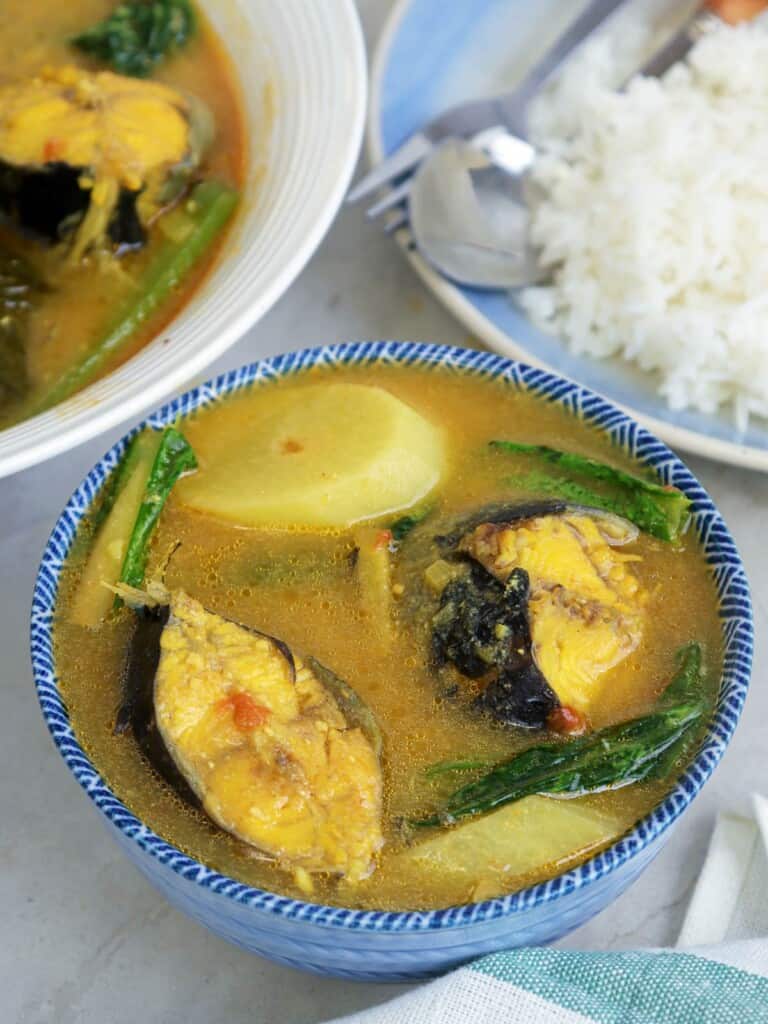 Sinigang na Hito sa Miso is another delicious variation of the classic Filipino Sinigang using catfish or hito. Like most sinigang, it includes tamarind to perk up the broth with a fruity tart taste. However, this hito version has added a layer of flavor from miso paste, fermented soybean paste, or miso.
With the plump and succulent catfish, crisp labanos, peppery mustard leaves, and flavorful soup, this Sinigang na Hito sa Miso is scrumptious!  It's filling and comforting, especially in chilly weather.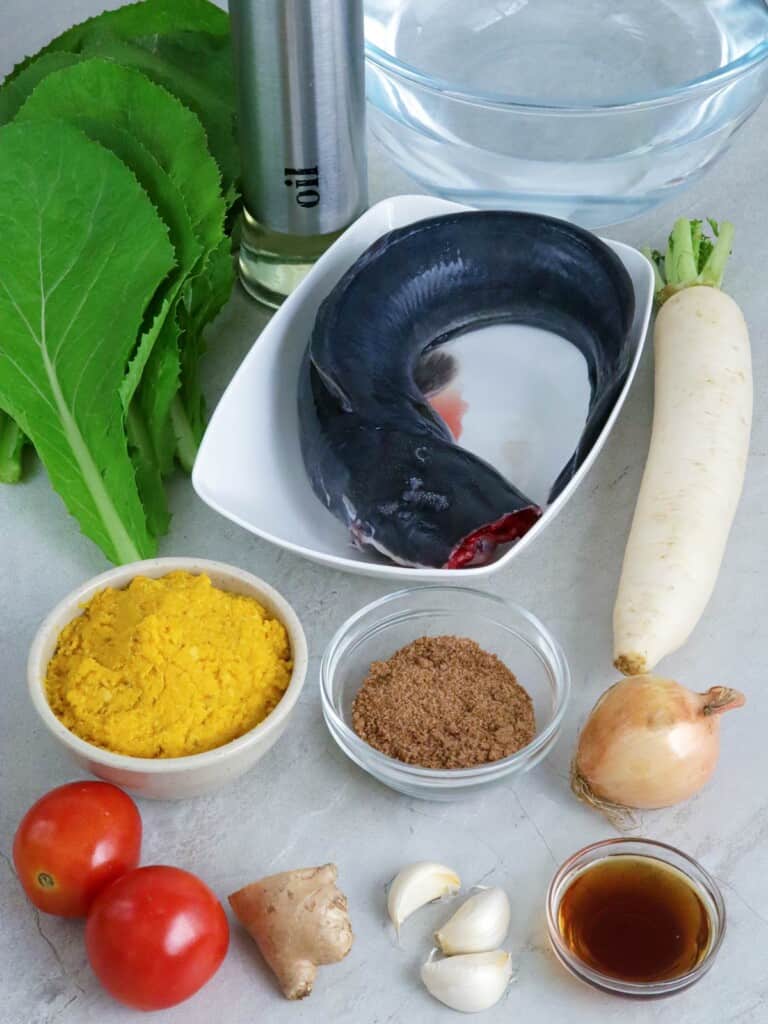 Ingredient notes
Hito or catfish– fresh-water fish with black skin and is very slippery. They are known to have a "beard" or "whiskers". You can also use kanduli which is another type of catfish and is silvery gray in color.
Tomatoes– I like to use ripe Roma tomatoes as they have a sweet and juicy taste
Ginger– adds a tangy freshness, light spiciness, and warmth to the dish. It also neutralizes the fishy odor of the catfish.
Miso– Philippine miso is usually yellow to light brown in color. It is made from soybeans that have been fermented with barley.  It has a mild, earthy flavor and is usually used in soups or as a condiment.
Tamarind– If using fresh unripe tamarind, boil to soften, place them in a sieve then mash them to extract the pulp and juice.
Labanos– called daikon or white radish. It has a crispy texture and mild, slightly sweet flavor.
Mustard leaves- have a sharp, biting peppery somewhat spicy taste. Alternatively, you can use bok choy if mustard leaves are unavailable.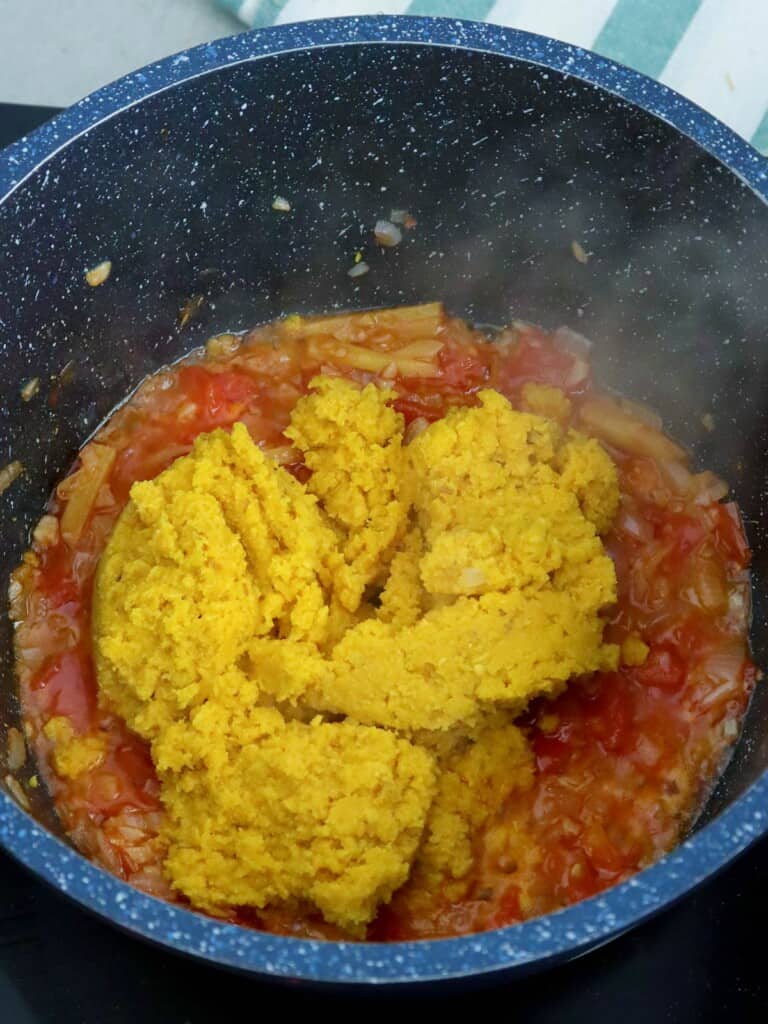 How to clean hito
Scrubbing the catfish with salt and calamansi juice helps remove the slime from the skin and neutralize the muddy taste.
To prepare for cooking, rub the fish thoroughly with rock salt and let it sit for a few minutes.
Scrape the salt off with a blunt knife.
Rinse with vinegar or calamansi juice and rub it again with salt.
Lastly, rinse the fish very well in cold water.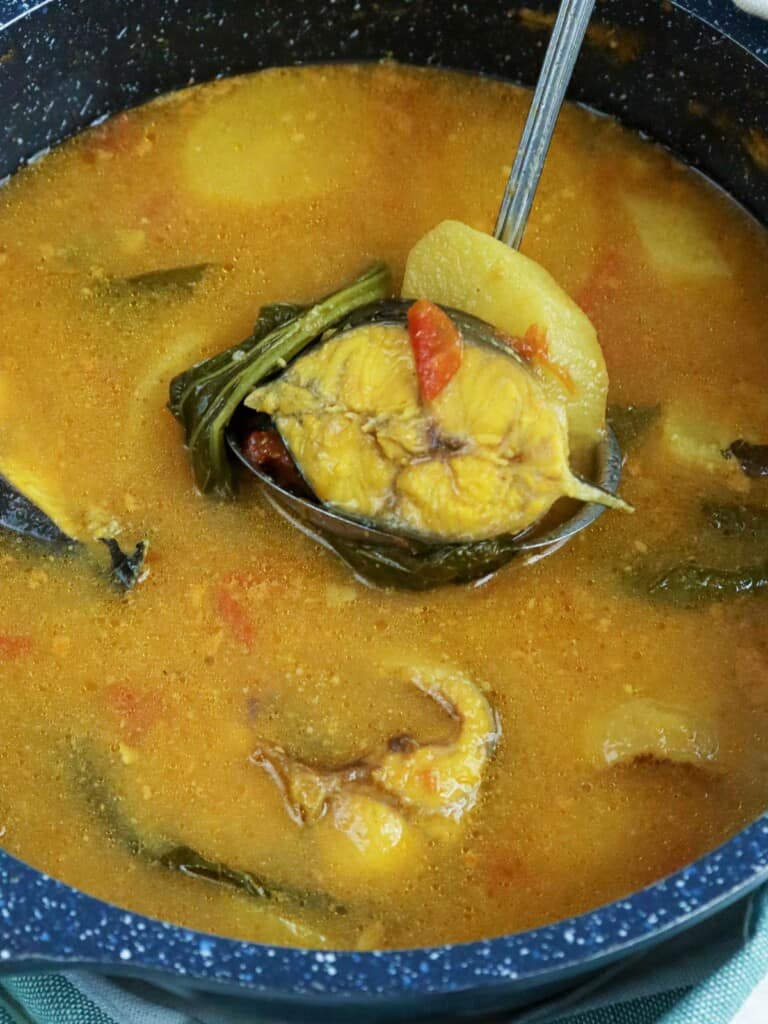 Quick Tip
Along with the radish and mustard leaves, you can also add other vegetables common in sinigang like yard long beans, eggplant, and okra. You can also add siling haba or finger chili peppers for a slight kick of spice.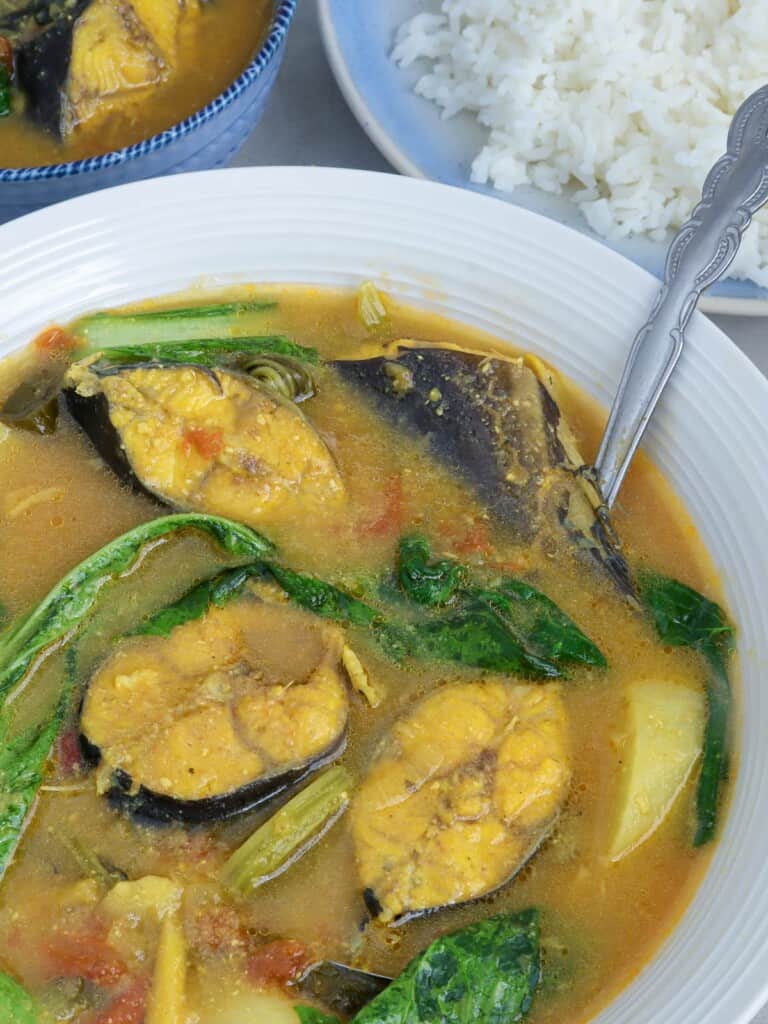 How to serve and store
Serve this catfish sinigang piping hot with steamed rice and spiced patis as a dipping sauce.
Place leftovers in an airtight container and store in the refrigerator for up to 3 days.
Reheat it in a saucepot over medium-low heat to 165 F.
Did you make this? Be sure to leave a review below and tag me @kawalingpinoy on Facebook and Instagram!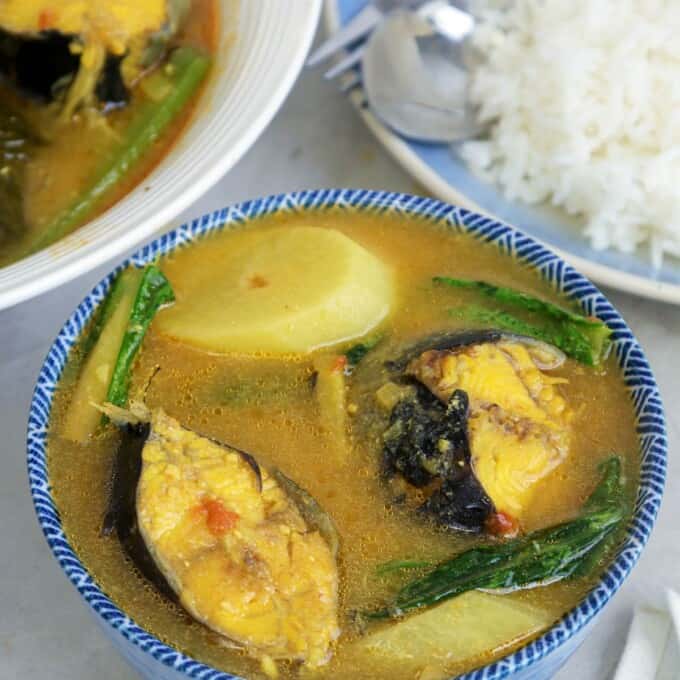 With the plump catfish, crisp labanos, peppery mustard leaves, and flavorful soup, this Sinigang na Hito sa Miso is scrumptious!  It's filling and comforting on its own or with steamed rice, especially in chilly weather.
 Course: 
Main Entree, Soup
Ingredients
1

 

tablespoon

 

canola oil

1

 

onion, peeled and chopped

3

 

cloves

 

garlic, peeled and minced

1

 

thumb-size ginger, peeled and julienned

2

 

tomatoes, chopped

1

 

cup

 

miso soy paste

6

 

cups

 

water

1

 

package

 

(1.4 ounces) tamarind base

1

 

tablespoon

 

fish sauce to taste

1

 

radish, labanos, peeled and cut into 1/-inch thick wedges

1

 

(about 2 pounds) whole catfish, cleaned, gutted, and cut into parts

1

 

bunch

 

mustard leaves, ends trimmed and cut into 4-inch lengths
Instructions
In a pot over medium heat, heat oil. Add onions, garlic, and ginger and cook, stirring regularly, until aromatic.

Add tomatoes and cook, mashing with the back of a spoon, until softened and release juice. Add miso and cook, stirring regularly, for about 3 to 5 minutes.

Add water and bring to a boil.

Add tamarind base and stir until dissolved.

Season with fish sauce to taste.

Add radish and cook for about 1 to 2 minutes.

Add catfish. Lower heat, cover, and cook for about 7 to 10 minutes.

Add mustard leaves and cook for another 2 to 3 minutes. Serve hot.