Pineapple Upside Down Cake with moist yellow cake and caramelized pineapple and cherries. This classic dessert is pretty as it is tasty, and always a hit!
This old-fashioned cake is soft and buttery with an intense fruit flavor and adorned with caramel-y pineapple and maraschino cherries that take it over the top. It's a tasty and festive treat that's perfect for all your year-round festivities.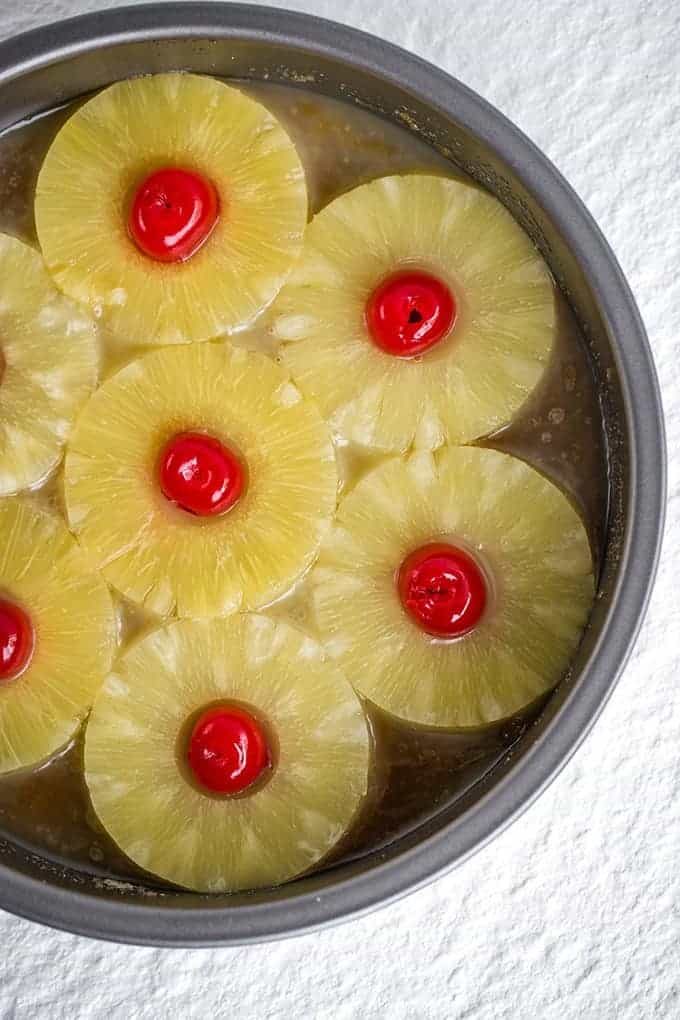 Although tropical in taste, pineapple upside-down cake is actually an American classic and has been a household favorite for almost 90 years. The style of baking cakes upside down has been around since the Middle Ages wherein the batter is poured over sweetened fruit toppings and cooked in cast iron skillets over an open fire.
Recipes for upside-down skillet cakes first appeared in cookbooks in the 1800s but were made of other seasonal fruits. It was in the early 1900s when the Dole company, formerly Hawaiian Pineapple Co., started to market mass quantities of their canned fruit that pineapple upside-down cakes took hold and gained their iconic dessert stature.
Baking tips
For variety, swap the pineapples with other sliced fruits such as berries, apples, bananas,  peaches, or plums.
For extra crunch, scatter chopped pecans or walnuts in any empty spaces around the fruit rings.
Pat the pineapples and cherries with paper towels to rid of excess moisture that might otherwise make for an overly wet crumb.
As the juices might bubble up during baking, place a pan or sheet on the lower rack to catch spills.
The cake can be baked in a pie dish, cast-iron skillet, or a springform pan for easy removal. You can use ramekins for individual servings.
It's best to remove the cake from the pan while still hot as the caramelized topping might harden and stick if completely cooled. Run a small spatula or knife around the sides to loosen and invert on a serving platter.
How to serve
Serve a slice (or two) warm or cold with a big scoop of vanilla ice cream or generous dollops of whipped cream for a fantastic after-meal dessert or midday snack treat.
To store, wrap the cake loosely with plastic film and refrigerate for up to 3 days. Wrap in foil and freeze for up to one month.
To reheat from the freezer, thaw completely and warm up in the microwave or in the oven.
Pineapple Upside-down Cake
Pineapple Upside Down is easy to make from scratch and incredibly delicious. With moist yellow cake and caramelized pineapples and maraschino cherries, it's as pretty as it is tasty!
 Course: 
Baked Goods, Dessert
Ingredients
For the Topping
5

 

tablespoons

 

butter

3/4

 

cup

 

light brown sugar, packed

2

 

teaspoons

 

lemon juice

7

 

pineapple rings

7

 

maraschino cherries
For the Cake
1/2

 

cup

 

butter, room temperature

2

 

tablespoons

 

vegetable oil

1

 

cup

 

granulated sugar

1/4

 

cup

 

light brown sugar, packed

2

 

large eggs

2

 

cups

 

flour

1

 

tablespoon

 

baking powder

1/2

 

teaspoon 

salt

1/4

 

cup

 

milk

1/4

 

cup

 

sour cream

1/4

 

cup

 

pineapple juice (from the canned pineapples)

2

 

teaspoons

 

vanilla extract
Instructions
In a skillet over medium heat, add the butter and brown sugar. Cook, stirring regularly, until melted and bubbling. The mixture will be grainy.

Stir in the lemon juice and cook, stirring regularly, until the mixture is bubbly and fluid.

Remove pan from the heat and transfer the caramel to a 9 x 2-inch round baking dish, swirling to cover the bottom of the pan.

Arrange the pineapple rings in the syrup close together but not overlapping. Place a maraschino cherry in each pineapple hole. Set aside.

In a large bowl, add the room-temperature butter, vegetable oil, granulated sugar, and brown sugar. Using a hand mixer at medium speed, beat until creamy.

Add the eggs one at a time, beat well after each addition.

In a separate bowl, sift together the flour, baking powder, and salt.

In another bowl, combine milk, sour cream, pineapple juice, and vanilla extract. Whisk until blended.

Beginning and ending with the flour mixture, add flour mixture and milk mixture alternately to the egg mixture. Beat at low speed with every addition. The batter will be thick.

Spoon the batter over the pineapples, carefully as not to shift or move the fruits. Using a spatula, spread and smoothen it evenly.

Bake in a preheated 350 F oven for about 45 to 50 minutes or until golden brown and a toothpick inserted in the center comes out clean.

Remove from the oven and run a small spatula around the cake to loosen.

Place a serving platter over the baking pan and using hand mittens, carefully invert and turn out the cake onto the platter. Brown sugar topping will be very hot.