Bakery-style Calamansi Muffins with a tangy citrus glaze are super moist, tender, and bursting with calamansi flavor! They're perfect for breakfast and brunch or as an on-the-go snack.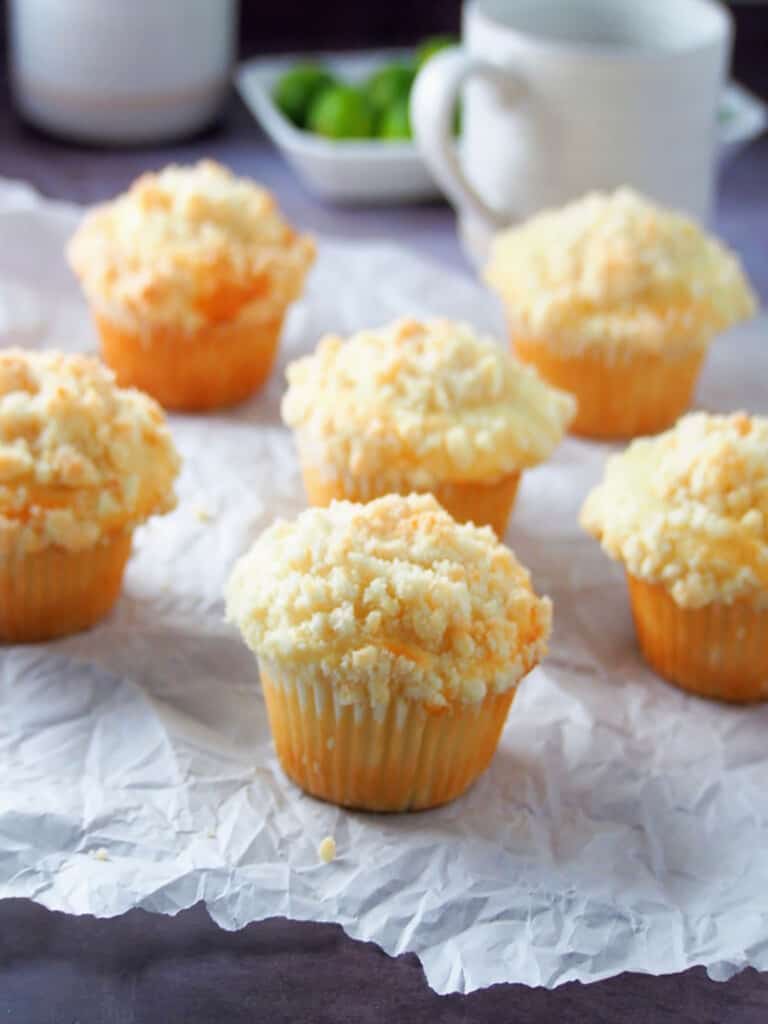 I've been on a quest for the perfect calamansi muffin recipe since forever, and I am thrilled to say I finally found it!
I tried and tested a handful of recipes in my search, but I was mostly disappointed with the results. They were either too dry and crumbly or too dense and heavy. What they all shared in common, though, was that they were missing that punch of citrus flavor I was looking for.
Dismayed by my unsuccessful attempts, I was just about to give up the hunt when I chanced upon a lemon crumb muffin recipe on Pinterest. The photo looked so amazing, and the thought of the tart glaze dribbling down my chin had me so excited, I wasted no time gathering all the ingredients!
What if, I thought, I made the recipe into calamansi crumb muffins by replacing the lemon juice with calamansi? And folks, it worked like a charm! The muffins delivered all the taste and texture I was looking for and more.
They are soft and moist inside, while the crumb topping provides a light crunch on the outside. They are fabulous as is, but the generous drizzling of the citrus glaze brings them over the top.
The recipe can be easily doubled, which I suggest you do. You'd want a huge batch of these calamansi muffins on hand all the time.
They're great for breakfast or brunch, as well as an on-the-go snack. Adults and kids alike won't be able to get enough!
Baking Tips
I don't have access to calamondin all the time so I like to stock up on calamansi puree to use on drinks, marinades, and baked goods.  Fresh is better, of course, but this bottled juice concentrate makes a great alternative when the fruit is not available.
Use a spoon or spatula to incorporate the flour. Do not overmix the batter; it should be slightly lumpy.
You can substitute Greek yogurt for the sour cream if unavailable.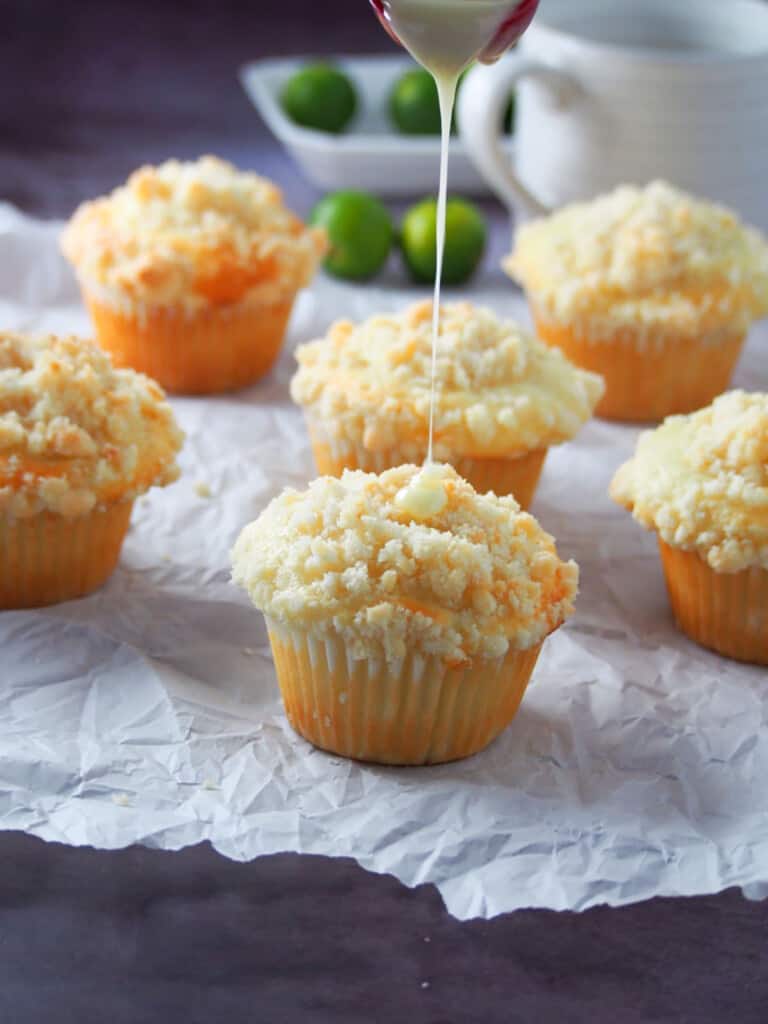 How to store
Calamansi muffins keep well in the fridge for up to 3 days and are perfectly freezable for up to 1 month.
If storing the muffins in the freezer, skip the glaze and drizzle when ready to serve. Store them in an airtight container or wrap individually in plastic film.
Did you make this? Be sure to leave a review below and tag me @kawalingpinoy on Facebook and Instagram!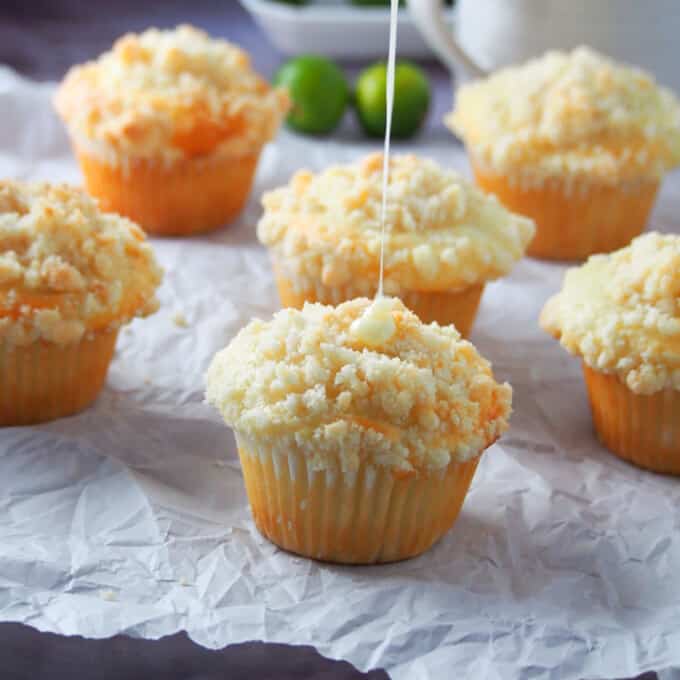 Calamansi Muffins are perfect for breakfast, brunch, or as on-the-go snack. Super moist, tender, and drizzled with a tangy citrus glaze, they're sure to be a favorite!
Ingredients
For the Crumb Topping
3/4

 

cup

 

flour

1/2

 

cup

 

sugar

1/8

 

teaspoon

 

salt

1/4

 

cup

 

butter, melted
For the Muffins
2

 

eggs

1

 

cup

 

sugar

1/2

 

cup

 

vegetable oil

1

 

tablespoon

 

calamansi zest

2

 

tablespoons

 

fresh calamansi juice

1

 

teaspoon

 

baking soda

1/2

 

teaspoon

 

salt

1

 

cup

 

sour cream

2

 

cups

 

flour
For the Calamansi Glaze
1

 

cup

 

powdered sugar

3

 

tablespoons

 

fresh calamansi juice
Instructions
Preheat oven to 375 F. Line a large 12-hole muffin pan with paper cups.
Crumb Topping
In a bowl, combine crumb topping ingredients: flour, sugar, salt, and butter. Stir together with a fork and set aside.
Calamansi Muffins
In a bowl, beat eggs using an electric mixer for about 1-2 minutes until thick and frothy.
Add sugar and oil and continue to beat for about 1 to 2 minutes or until creamy.

Add calamansi zest, juice, baking soda, and salt. Beat for about 1 minute.

Add sour cream and beat until combined.

Add flour and using a spoon, stir just until combined. The batter will still be slightly lumpy.

Using a scoop, fill muffin cups up to 3/4 full. Sprinkle the crumb topping mixture on top.

Bake for about 18-20 minutes or until a toothpick inserted in the center of muffin comes out clean. Let cool for about 3 to 5 minutes and then transfer to a rack to completely cool.
Calamansi Glaze
In a bowl, combine ingredients for calamansi glaze: powdered sugar and calamansi juice. Stir well until smooth.

Drizzle over muffins.